About Us
At J&J Contracting, we are a team of experienced and certified professionals who provide high-quality construction and restoration services to homeowners and businesses in Las Vegas, North Las Vegas, Henderson, Clark County, and the surrounding areas.
We believe that every home or business should be a place of comfort, safety, and beauty. That's why we are committed to delivering top-quality workmanship and excellent customer service on every project we undertake.
Join our family of satisfied customers and experience the quality service provided by J&J Contracting. Contact us at (702) 710-1175 to schedule a consultation.
How J&J Contracting Began
Our story is one of dedication, passion, and commitment to excellence. Founded by two brothers, Javier and Juan Ibarra, we have been in the construction and building industry since 2003.
We started as a small family business with a passion for helping homeowners and businesses recover from unexpected disasters. Through hard work, dedication, and a focus on customer satisfaction, we have grown into a reputable and respected restoration company in Las Vegas.
Javier began his career as a certified plumber, overseeing new residential projects throughout the valley. He gained extensive experience in all types of construction and building situations before realizing a significant need for attention to detail during the reconstruction process, especially after unforeseen damages to homeowners' properties.
This inspired him to prioritize customer service and ensure that their needs are carefully addressed, including insurance bidding and procedures.
Knowledgeable in insurance restoration and remediation estimation, Javier has the skills and resources necessary to ensure our clients receive the highest quality services possible.
On the other hand, Juan Carlos has been working in the construction and building industry since 2003. His experience and knowledge allow him to perform all tasks needed to comply with industry standards.
He is hands-on and always involved with individual projects. His work integrity makes him very detail-oriented and focused on completing any job on time and gaining customer satisfaction.
With a passion for insurance restoration and remediation estimation, Juan is certified in water damage restoration and has experience with insurance loss procedures, protocol, formal communication, and documentation.
Together, the brothers have built J&J Contracting from the ground up, providing a comprehensive range of construction and building services that meet the unique needs of every client. From kitchen remodeling to mold and mildew remediation and new home construction, our team has the mastery and experience to deliver exceptional results.
Why Choose J&J Contracting?
What Makes Us Different
10+ Years of Industry Experience

We're licensed and insured local professionals. We have the experience to bring your home remodel to life!

Family Owned & Operated

We're a locally & family-owned and operated business. We make sure to treat your home like our own!

Providing Service in Spanish

Work with a professional who speaks your language. Our team is happy to provide bi-lingual services to our local community.
The J&J Approach
We take a customer-centric approach to property damage restoration. We understand that each property and situation is unique, which is why we customize our solutions to fit our clients' needs.
Our 24/7 availability and rapid response time to emergency situations ensures that our clients get the help they need when they need it most. We prioritize safety and quality in every step of the restoration process, and our trained and certified technicians adhere to industry standards and regulations.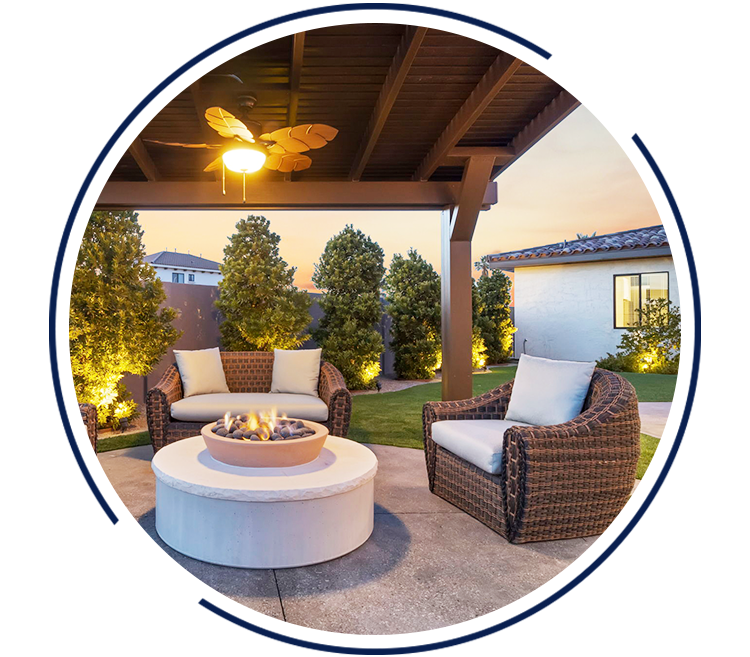 We take pride in our meticulous and systematic approach to damage assessment and restoration.
Our process starts with requesting a Damage Assessment Report (DAR) for the City of Las Vegas or pulling a permit for North Las Vegas or the City of Henderson, depending on the scope of the project. Once the permit is obtained, we schedule a field visit with the homeowner to evaluate the damage and create a comprehensive estimate that includes all necessary documents such as work order, budget, and payment schedule.
Our team is experienced in managing budgets and expenses, and we use Quickbooks (QB) to create a project and track payments, keeping our team accountable and ensuring that we stay on budget. We are also knowledgeable about carrier payments, including payments with the mortgage as a payee, and we work diligently to ensure that all funds are collected at the time of closing.
Throughout the process, we document everything carefully and upload all documents to One Drive, allowing for seamless communication with our team.
We take pride in our commitment to quality. Our final invoice and Certificate of Completion (COC) serve as proof of completion and are sent to the insurance company.
Our services are available for property owners in Las Vegas, NV, and the surrounding areas. Our systematic process ensures that every project is completed efficiently and effectively, and we are proud to serve our community with absolute professionalism.
Call us at (702) 710-1175 to schedule your damage assessment and get started on your project.
Hear From Our Happy Customers
Reviews & Testimonials
At J&J Contracting, your satisfaction is our priority! See for yourself what people have to say about working with us.
"Real professionals!"

This company was very professional, especially the employees. One stands out to me and his name is Carlos F. Every time I called him (a lot) he was always professional and courteous.

- Paulette S.

"Extremely pleased!"

I would easily give them 10 stars if I could. Far exceeded any expectations I had. Extremely pleased with everyone who contributed to this job, Juan, Javier, Carlos, their glass workers, plumbers and drywall/painters all did an excellent job

- M. Conrad

"Don't hesitate to call them!"

J&J renovated two 18-year-old bathrooms for us. The finished product was great and could not be happier.

- Diane S.

"We love our new outdoor kitchen!"

They did such a great job, were reasonably priced, and we love our new outdoor kitchen.

- Melissa C.